Alumni and Friends Come to "Campus" to Learn About Foraging, COVID, and Gut Health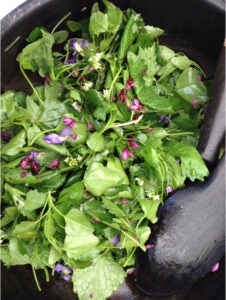 In the pandemic summer of 2020, the landscape shifted for everyone, including higher education. But at Georgetown, one group of faculty and students at the Medical Center hardly noticed the change in their coursework. That's because for nearly 10 years, those in the School of Nursing & Health Studies graduate programs have been learning remotely yet together in virtual classrooms around the country.
Over the years, many benefits from this novel approach have emerged. Students are able to stay in their home communities and bring their varied, daily, immersed work experiences to the classroom. For students located in remote areas, where health workers are often in short supply, distance learning offers an ideal solution. For students who have commitments at home that prevent them from attending in-person courses in Washington, D.C., the flexibility of online learning can make all the difference. For faculty, the richness of the living experiences among the students creates rich material for discussion and opportunity for applied learning and feedback in real time.
When Georgetown's physical campus classrooms shuttered this spring, all students and faculty quickly shifted to online classes. By late summer, Georgetown Health magazine readers were able to get a sneak peek into two of these evolving learning communities.
Urban Foraging
In August the Georgetown University Alumni Association, in partnership with Georgetown Health magazine, offered alumni a virtual class on Urban Foraging on the Hilltop led by two beloved faculty members. Biology professor Martha Weiss, PhD, and pharmacology professor Adriane Fugh-Berman, MD (M'88), led a one-hour class on gathering wild edibles on and around the Georgetown campus. The two professors have been friends for many years and typically lead a seasonal foraging feast on campus, preparing a meal with students and faculty together in a dormitory kitchen.
Highlights of this year's virtual edition included information on preparing gingko tree nuts, and using delicious mixed greens like sorrel to create a Georgetown Campus Salad. Participants asked about eating acorns, and where to find wineberries on campus. Weiss noted that she
looks forward to next year's super foraging feast: cicadas!
Both professors stressed the importance of studying biology, ecology, and botany before strolling along the roadside to harvest a free
meal. Many plants are part edible and part toxic, Weiss noted, such as potatoes, asparagus, and rhubarb.
"What's good for a bird might not be good for you," she added.
For the most part, foraging is legal except on private property and in national parks, the professors said. Weiss shared that she makes persimmon bread for a neighbor who offers the fruits from her tree each year. She also makes acorn cookies, though the process of removing the tannins from the oak tree nuts is long and arduous.
An underappreciated native tree, pawpaws can be found all along the C&O Canal, Weiss noted, bearing their tropical fruit in late August and September. Similar in consistency to a banana or mango, with a smooth custard texture, the tasty pawpaws look like green potatoes. Humans are not the only fans, Weiss warned.
"It becomes a race between you and the squirrels."
Watch the class below: