In the midst of the COVID-19 crisis, Luci Baines Johnson (NHS'69, H'18)—daughter of President Lyndon B. Johnson and Lady Bird Johnson—and her husband, Ian Turpin, made a $1M gift to the Georgetown University School of Nursing & Health Studies (NHS). The Johnson/Turpin Fellows Endowed Fund supports scholarships for graduate students who have a demonstrated interest in serving adult and geriatric populations, along with other underserved communities, many of which have been disproportionately hurt by coronavirus.
The gift will empower NHS students to meet the challenges of caring for a rapidly aging population. By 2050, the number of Americans aged 65 and older is projected to reach 88.5 million, more than one fifth of the population, accord- ing to the U.S. Census Bureau. To meet the health care needs of seniors, the United States requires an estimated 3.5 million health care providers with expertise in gerontology, the study of aging, by 2030, reports the Institute of Medicine.
"The geriatric nursing workforce is going to be really important, given the demographic changes in the U.S." says Carole Roan Gresenz, interim dean of NHS and a professor in the Department of Health Systems Administration.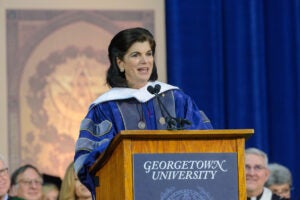 In addition to the challenges of a rapidly aging population, the COVID-19 pandemic has further exacerbated strains on the U.S. health care system. "Nurses have really been the frontline of our nation's response to COVID-19," says Gresenz.
The gift will support NHS graduate students who have difficulty securing financial aid. These include distance-based learners in the online Adult Gerontology Acute Care Nurse Practitioner program, who provide primary care services to patients in rural and underserved areas. The gift will also bolster students in the Clinical Nurse Leader Master of Science Program, who train to assess health care systems, such as nursing homes and hospitals, for quality and safety issues.
Luci Baines Johnson began her undergraduate studies in nursing at Georgetown in 1965, and has been an advocate for nurses throughout her life.
"I am so proud of the nursing profession, and so thankful to have had a 55-year association with them," says Johnson. "Cura personalis has truly been embraced by NHS students, and I will be forever grateful to have been among them."