Only days into 2020, Georgetown Law professor Larry Gostin was already communicating with global health colleagues about a novel virus that had emerged a few weeks earlier in Wuhan City, China. From a few clusters, the new virus—what we now know as COVID-19—spread rapidly in China, then throughout the region.
"I knew we were in real trouble," Gostin recalls thinking then. That COVID-19 would spread from the region and reach the United States was just a matter of time—like watching a hurricane approach.
Gostin is one among dozens of faculty members from every school at the university with pandemic-related expertise and research. Over the summer, Georgetown Magazine talked with four faculty members about why this virus is causing worldwide devastation and what the future might bring.
Gostin is no stranger to global pandemics. He's worked in public and global health since the beginning of the AIDS epidemic in the early 1980s. In a March interview with Georgetown President John J. DeGioia in his Georgetown Now series, Gostin told him, "I was in the CDC [Centers for Disease Control and Prevention] war room when the first case of HIV was announced." Gostin has long worked alongside Anthony Fauci, director of the National Institute of Allergy and Infectious Diseases, with whom he is still close friends.
Gostin holds the highest rank of University Professor and is the founding director of the O'Neill Institute for National and Global Health Law at Georgetown Law, and director of the World Health Organization (WHO) Collaborating Center on Public Health Law and Human Rights. He is the Global Health Editor of JAMA. Over his career, he has been called on for his expertise on SARS, MERS, H1N1, Ebola, and Zika outbreaks over the last 20 years. He is on the expert panel of the WHO International Health Regulations, which govern global pandemic response. This year, he's been sought out almost daily by the media as the novel coronavirus, now in its second wave, spreads at a crushing pace.
Within three months of the outbreaks in China, the World Health Organization declared COVID-19 a global pandemic. A month later, Europe was the virus epicenter, and more than 1.1 million cases worldwide had been confirmed. As of November, WHO counts 57 million confirmed cases of the virus worldwide, with 1.4 million deaths. The United States, which confirmed its first case in January, had 12 million cases and 255,000 deaths by October, per the CDC. Beyond the numbers is untold suffering, a strained health care system, economic havoc, lost jobs and homes, upended social and community bonds, and lives hanging in suspension.
If more than 58 million confirmed cases of COVID-19 aren't frightening enough, best estimates indicate that for every diagnosed infection there are 10 undiagnosed. Death-rate estimates range from about one percent to four percent of those diagnosed with COVID-19. Gostin thinks the death rate is on the low end of the estimates, "but even at one percent, COVID-19 would be 10 times more fatal than the seasonal flu," he told DeGioia in their March interview.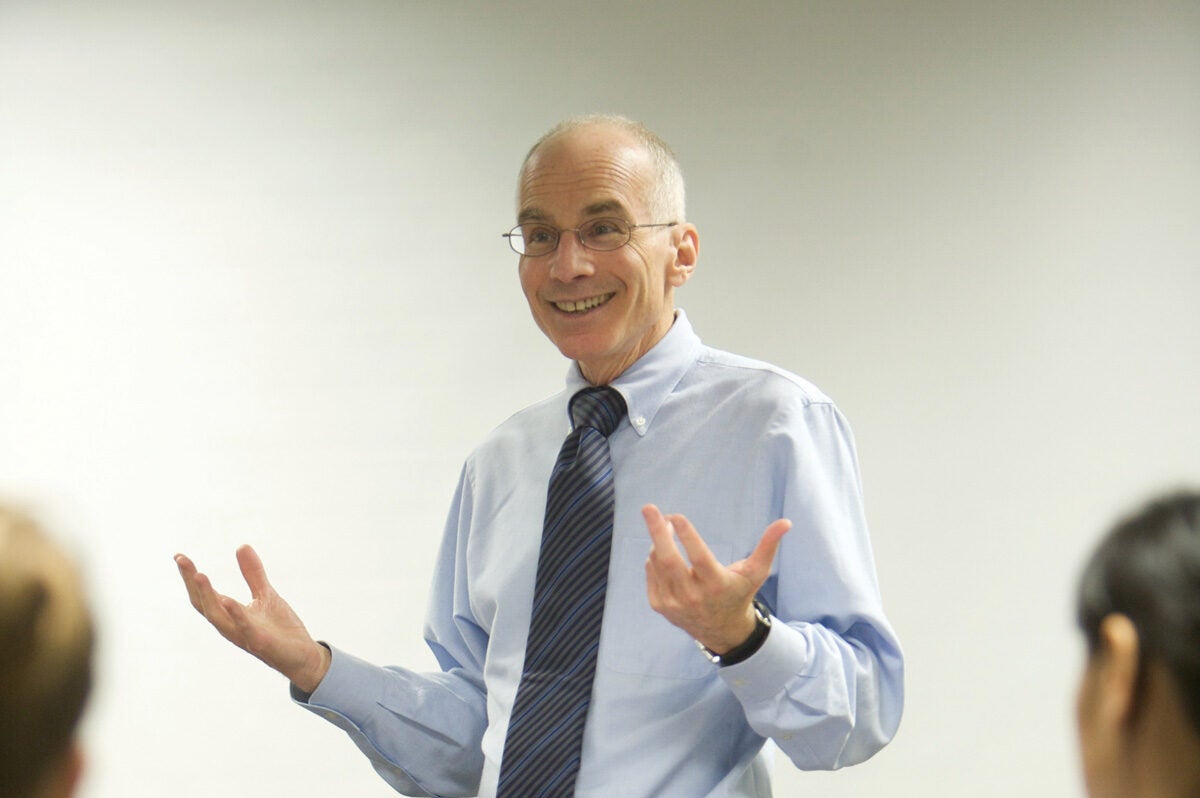 Tools for decision making
Ten months into the worst global health crisis in a century, there are still so many unknowns: How many people are asymptomatic but able to transmit the virus? For how long? Once you've had the virus, do you have lasting immunity, or can you get it more than once? When will a vaccine be available? How many people died from the virus but weren't counted?
"Figuring out these questions is critical to how we keep our economy going and who can then go back into the workforce," Rebecca Katz, professor and director of GUMC's Center for Global Health Science and Security (GHSS), told DeGioia in a March Georgetown Now interview. GHSS has seven faculty, five full-time staff members, more than a dozen students, consultants working around the world, and about 10 active programs in 26 countries. In addition to her work at the Medical Center, Katz teaches global health diplomacy, global health security, and emerging infectious diseases at the School of Foreign Service.
On November 10, Katz was named as an advisor to President-elect Joe Biden's new coronavirus task force.
Katz's research focuses on international systems, global governance, and international health regulations. "All of our teaching, research, and service at GHSS has been focused on preparedness and build- ing capacity around the world within governments and by promoting policies for exactly what we're dealing with right now," she says.
Since the pandemic's outbreak, Katz's expertise has been in high demand from mayors, governors, international organizations, sports organizations, and private industry to inform their policy and response efforts. "I'm helping them think through everything from high-level policy to very operational components, like should there be a thermal scanner at an entrance, and what are the metrics that we should be using to figure out whether we reopen or relax some restrictions," she says.
GHSS has launched the "COVID-19 Frontline Guide" to provide state and local government leaders and other public officials with a web-based decision support tool and progress indicators to assess COVID-19 in their jurisdictions.
In September, Katz and her GHSS colleague Alexandra Phelan, a global health legal and policy expert, published a report, "Governance Preparedness: Initial Lessons from COVID-19," which was commissioned by the Global Preparedness Monitoring Board. In it, they wrote that the success of any effort to redress pandemic preparedness failures demonstrated by COVID-19 requires an approach to governance that would include greater accountability, transparency, equity, participation, and the rule of law.